Unified Russia, backed by President Vladimir Putin, is leading in 13 of the 14 regions that voted. The new Kremlin-supported A Just Russia party was ahead in the other region, Stavropol Krai.
The turnout was low (under one-third of the total electorate) and opposition parties say they were sidelined.
The results came as little surprise in an election that is being seen as a test run for federal parliamentary elections in December.
It was a healthy win for the Kremlin-backed Unified Russia party, and a healthy start for A Just Russia, a party positioning itself as the opposition -- despite the fact that it, too, enjoys Kremlin backing.
A Just Russia won outright in one region and was runner-up in many others.
Unified Russia head Boris Gryzlov was confident about his party's success.
"If we speak as a whole about our faction, in nine of 14 regions, we'll have more than 50 percent for the Unified Russia faction," he said. "In the rest, we will have a simple majority [a plurality]."
Opposition Complaints
Most opposition parties performed badly.
Before the vote, opposition parties said they have been sidelined and given virtually no media attention by the Kremlin-controlled media.
Many were barred from running in the regional elections on technical grounds.
In St. Petersburg, the local election commission ruled that the opposition Yabloko party could not run in the ballot for the city's Legislative Assembly. The reason --10.5 percent of the signatures gathered for registration were declared invalid.
Russia's Communist Party (KPRF) leader Gennady Zyuganov was unhappy with the vote, telling reporters there have never been such dirty elections in Russia.
"This is a dress rehearsal before the elections for the State Duma and the presidential election," Zyuganov said. "We'll conduct our own parallel count."
Any evidence of electoral abuses is unlikely to change anything. With the economy performing well, plenty of generous media coverage, and Putin's high popularity, analysts say that Kremlin-backed parties are likely to remain popular with voters.
Democracy In Russia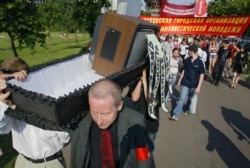 Demonstrators in Moscow carry a coffin with a television in it to protest government control over broadcasting (TASS file photo)


DO RUSSIANS LIKE THEIR GOVERNMENT? During a briefing at RFE/RL's Washington office on November 15, Richard Rose, director of the Center for the Study of Public Policy at the University of Aberdeen, discussed the results of 14 surveys he has conducted since 1992 on Russian public opinion about democracy and the country's development. He discussed the implications of these opinions for relations with the West and for Russia's 2008 presidential election.
LISTEN
Listen to the complete discussion (about 42 minutes):

Real Audio
Windows Media
RELATED ARTICLES
U.S. Election Expected To Chill Relations With Moscow
Are Mayors Next 'Power Vertical' Victim?
Monarchist Nostalgia Remains Powerful
Russian Election Commission Rejects Third-Term Appeal
Romanov Burial May Be Part Of Kremlin Image Campaign
ARCHIVE
All of RFE/RL's English-language coverage of
Russia
.


UPDATED CONSTANTLY: Visit RFE/RL's Russian-language website, featuring news, analysis, features, streaming audio, and more, in Russian, from RFE/RL's Russian Service.