Zakia Zaki, who ran the private broadcaster Peace Radio, was killed by multiple gunmen in her home north of Kabul, in the central province of Parwan, late on June 5. The gunmen reportedly shot her in front of her young son before fleeing the scene.
Neither the identities of the killers nor their motive is clear at this point.
Zakia was a former headmistress and a representative to Afghanistan's Constitutional Loya Jirga in 2003-04. But she had received threats in the past in connection with her work at Peace Radio, which she had managed since 2001.
The head of Afghanistan's Independent Journalists Association, Rahimullah Samander, says that Zaki had contacted his group over those threats.
"She has been threatened because of some of her programs, and [the people who issued the threats] said that some [Peace Radio] reports were [critical of] one of the region's [prominent] figures; they said the programs were a plot against that person," Samander says. "Regional commanders are influential in the province and they have created problems for her several times in the past. She had come to me and told several other colleagues about it."
No Isolated Case
Zaki's slaying comes less than a week after the murder of a popular 22-year-old television presenter, Shakiba Sanga Amaj, who was also shot dead in her family home in the capital.
A suspect has been arrested in the Sanga Amaj case, and some reports suggest that her murder was an act of revenge for spurning a proposal of marriage.
Reporters Without Borders has suggested that even if a family feud is behind the "cowardly" killing of Shakiba, Afghan authorities should not overlook her professional activities as their investigation proceeds.
Two years ago, in May 2005, a presenter on the private Tolo Television, was shot dead in her Kabul home in a case that remains unsolved. Shaima Rezaee had been criticized for what some regarded as her Western style and appearance.
Samander says these recent murders have increased fear among journalists.
"A large group of journalists are going from Kabul to [Zaki's hometown of] Jabalussaraj right now...to view the body of Zakia Zaki," he says. "All [journalists] are concerned. In less than two weeks, there have been four incidents -- two murders and the plunder of equipment at a radio station and the closure of a newspaper in Konduz, which happened two or three days ago."
Young Sector
Afghanistan's independent media sector is in its infancy. The media sector has grown rapidly since the fall of the Taliban in late 2001. But intolerance remains, and journalists and media workers are regularly subjected to threats and harassment from former warlords and conservatives.
Women are a particularly vulnerable minority in a country where culture and other forms of orthodoxy frequently conspire against female professionals. The number of women working as journalists, reporters, or presenters has increased, but women still remain a clear minority in the country's media sector. The intimidation and threats of violence are sometimes accompanied by pressure from male-dominated families.
Shukria Barekzai is a member of Afghanistan's parliament and a former editor of a women's magazine. She tells RFE/RL she's distressed over the broader signals of the murders of Zaki and Amaj.
"I seriously condemn [these killings], and I'm also concerned about the murder of women who are unlawfully killed merely because they work for media organizations -- they're journalists, they're intellectual women, and they fight for women's rights in Afghanistan. We are deeply worried about this," Barekzai says.
She says the Afghan government should take measures to guarantee security for journalists, media workers, and human rights activists.
The journalists association's Samander is worried that threats and violence against journalists could seriously undermine advances in freedom of expression and media freedoms.
Reporters Without Borders describes press freedom as one of the few achievements of the past five years in Afghanistan. But the group warns that the sector remains fragile and that journalists feel the effects of deteriorating security, threats from warlords and conservative religious leaders, and a government that is feeling pressure from many sides.
'Attacks On The Press -- 2006'
'Attacks On The Press -- 2006'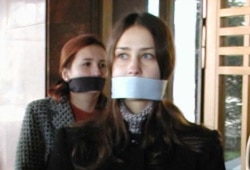 Ukrainian journalists demonstrating against censorship in December 2006 (RFE/RL)


'DOMINO EFFECT.' Two experts with the Committee to Protect Journalists told an RFE/RL-Radio Free Asia briefing on February 6 that their organization is concerned Russia's increasingly restrictive media environment is being copied by other countries in the CIS.
LISTEN
Listen to the entire briefing (about 80 minutes):

Real Audio
Windows Media
RELATED ARTICLES
New Program Finds Way Around Internet Censorship
CPJ Discusses Dangers, Obstacles Journalists Face
East: RSF Calls Iraq, Iran 'Graveyard Of Freedom'
Media Situation Worsening In Central Asia, Russia, Azerbaijan
SUBSCRIBE
For regular news and analysis on media issues throughout RFE/RL's broadcast area by e-mail,
subscribe to "RFE/RL Media Matters."