A parliament spokesman, Kazem Jalali, said Iran should not be a "tool" for settling disputes between world powers.
Russia's offer is an alternative to a U.S. plan to build a radar in the Czech Republic.
Washington has said the radar is needed as part of a shield against "rogue" threats, including Iran.
But Moscow, apparently fearing it is the real target, has expressed opposition to the U.S. plan.
U.S. President George W. Bush has spent considerable time during his current European tour trying to persuade European publics -- and Russia -- that the planned missile-defense system is a good idea.
(dpa)
Iran: Missiles And More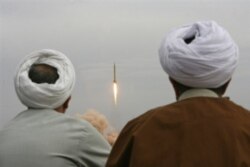 Iran tests its Shahab-3 medium-range missile in November 2006 (AFP)


HOW LONG A REACH? As the debate on missile defense sharpens, Tehran continues to develop its Shahab-3 missile, which is already capable of reaching some parts of Europe.... (more)
RELATED ARTICLES
Independent Nuclear Physicist Evaluates Iran's Nuclear Program
Iran Rocket Launch Another Show Of Prowess
How Close Is Iran To Getting Nuclear Bomb?
Iran's Super Weapons Claims Met With Skepticism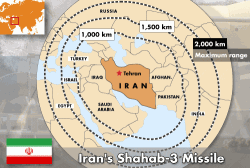 Click to enlarge the image.