Russia Declassifies World War II Archives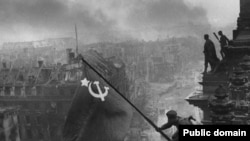 The newly available material includes Red Army documents (Public domain) July 14, 2007 -- Russia has declassified some military archives dating back to World War II.
The Defense Ministry's Archive Service chief Colonel Sergei Ilyenkov told reporters in Moscow that the declassified material includes documents from the General Staff, Red Army, and Soviet Navy.
Russian defense officials say they hope the documents will help researchers gain a better understanding of the Soviet role in the war.
(Interfax, ITAR-TASS)

World War II: 60 Years On
A microsite devoted to RFE/RL's coverage of the 60th anniversary of the end of World War II in May 2005.
See also:
60 Years Later, Nagasaki Bomb Witness Is Finally Heard
For One Hiroshima Survivor, A Journey From Hate To Reconciliation