UN Chief Condemns Deadly Attacks In Afghanistan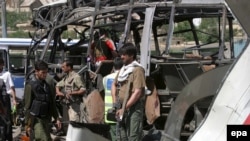 A bus bombing in Kabul on June 17 killed more than 30 people (file photo) (epa) June 21, 2007 -- UN Secretary-General Ban Ki-moon has condemned recent deadly attacks in Afghanistan, saying the bloodshed reflects an "inexcusable disregard for the value of human life."
Ban, in particular, pointed to a bomb attack on June 17 on a bus in Kabul that killed 35 people, mostly Afghan police trainers.
The attack has been claimed by the Taliban.
The statement from the UN chief also noted, "with deep sadness," that seven Afghan children were reported killed as a result of a recent coalition air strike in Paktika Province.
Meanwhile, Japan is today hosting an international conference aimed at strengthening efforts to persuade illegal armed groups in Afghanistan to put down their weapons.
Japanese Foreign Minister Taro Aso, in an opening speech, said the threat posed by such groups must be addressed urgently.
He said the "unfortunate truth" is that the "weak governance of the Afghan government" continues to hinder the country's reconstruction.
The conference is being attended by Afghan Vice President Abdul Karim Khalili and officials from 18 countries and international organizations.
(AP, AFP, un.org)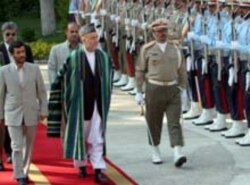 Afghan President Hamid Karzai being greeted in Tehran in May 2006 (epa)


TEHRAN PLAYS ITS HAND. RFE/RL analyst Amin Tarzi led a discussion on the role Afghanistan may play in the delicate diplomatic game being played by Iran and the United States. Tarzi outlined ways in which Tehran might be flexing its muscle to show Washington that it can destabilize its neighbor.
LISTEN
Listen to the entire briefing (about 70 minutes):

Real Audio
Windows Media
ARCHIVE
RFE/RL's complete coverage of
Afghanistan
and
Iran
.


UPDATED CONSTANTLY: Visit RFE/RL's Persian-language website, featuring news, analysis, features, streaming audio, and more, in Persian, from Radio Farda.