Local prosecutor-general Oleg Zharikov said Ruslan Odizhev was shot dead during a police raid against rebels in Nalchik, the capital of the republic of Kabardino-Balkaria, in Russia's Caucasus.
Russian authorities say Odizhev was wanted for his alleged involvement in multiple attacks on police, army, and FSB facilities in Nalchik in October, 2005.
(RFE/RL's North Caucasus Service, with agency reports)
Islam In The North Caucasus
Islam In The North Caucasus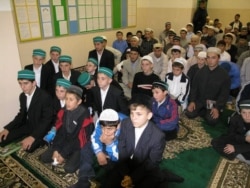 Madrasah students in Khasavyurt, Daghestan (RFE/RL file photo)
SIMMERING TENSIONS: Fatima Tlisova, former North Caucasus editor for the Regnum news agency and a former North Caucasus-based freelancer for RFE/RL, AP, and others, told an RFE/RL briefing that the Russian government is cracking down hard on mosques and Islamic organizations throughout the region.
LISTEN
Listen to the entire briefing (about 70 minutes):

Real Audio
Windows Media
RELATED ARTICLES
Filmmaker Documents Chechen Villagers' Sad Fate
Rights Activist Discusses Difficulties Of Working In Chechnya
Ministry Admits Chechen Resistance Still Poses 'Serious Threat'


RFE/RL's complete coverage of Russia's war-torn Republic of Chechnya.
CHRONOLOGY
An
annotated timeline
of the Chechnya conflict.