The head of the Vanj district, Ghairatshoh Pirov, told RFE/RL's Tajik Service that exponents of the self-proclaimed Islamic group have urged the observance of restrictive Islamic rules.
Pirov accused the group of initiating unsanctioned gatherings and trying to restrict people's civil liberties -- including insisting that they wear strict Islamic clothing to school.
But Vanj resident Hukumilsho Rahmatshoev told RFE/RL that the group's member have not broken any laws or ordinances.
Rahmatshoev said that Mavlavi exponents have used public gatherings such as funerals to urge people to do "good and right things" and refrain from "sin."
Rahmatshoev said there are four or five active "Mavlavi" proponents in Vanj, and added that local officials appear concerned by those individuals' religious training in Islamic schools in Iran or Pakistan.
Islam And Politics In Central Asia
Islam And Politics In Central Asia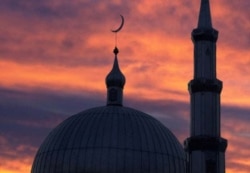 The Khodji Mashrab Mosque in Dushanbe (TASS file photo)
ACTIVISTS AND AUTOCRATS: Eric McGlinchey, assistant professor of government and politics at George Mason University, told an RFE/RL briefing that Islam-centered political movements present the most coherent challenge to autocratic governments in Central Asia.
LISTEN
Listen to the entire briefing (about 60 minutes):

Real Audio
Windows Media
RELATED ARTICLES
Central Asian Security Services Take On Religious Dissent
Family, Followers Reject 'Terrorist' Claims Against Slain Cleric
Hizb Ut-Tahrir's Calls For Islamic State Find Support
Imam Extends Welcome To Hizb Ut-Tahrir

A thematic webpage devoted to issues of religious tolerance in RFE/RL's broadcast region and around the globe.