Uzbek authorities blame the group Akromiya for last year's deadly violence in Andijon.
All four defendants are ethnic Uzbeks. They are charged with illegally possessing ammunitions, counterfeiting Kyrgyz passports, and plotting terror attacks.
Among them is Gulmira Maqsutova, the 21-year-old daughter of Akramiya's founder Akram Yuldashev, who is serving a jail sentence in Uzbekistan.
Maqsutova was arrested two months ago in Osh.
Defense lawyer Kubanychbek Joroev told the court today the four on trial were innocent of all charges, except one. He said the defendants had no other alternative than to forge passports in order to escape persecution from Uzbek authorities.
Maqsutova's lawyer, Toktosun Kasymbekov, told RFE/RL's Kyrgyz Service that her client had no relations with Akramiya or its founder.
"This girl was 12 years old when her father was jailed," Kasymbekov said. "Since then she has never been aware of her father's whereabouts; she has not seen him. However, after last year's Andijon events, persecution against her started. She was blamed for being the daughter of the Akramiya leader and she was forced to [leave Uzbekistan] and come to Osh in Kyrgyzstan."
The presiding judge, Tursunbai Aibakiev, said today the verdict would be made public on September 28.
(with material from uznews.net)
Hizb Ut-Tahrir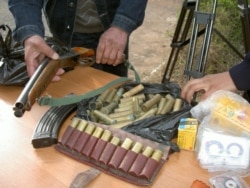 Arms and leaflets allegedly confiscated from Hizb ut-Tahrir members in Kyrgyzstan in May (RFE/RL)

ATTRACTIVE TO THE YOUNG: It is virtually impossible to estimate the size or composition of Hizb ut-Tahrir's membership in Central Asia, because the controversial movement is banned in most places. But some observers say anecdotal evidence suggests the group's core of younger members is growing....(more)
RELATED ARTICLES
Russia Approves List Of 17 'Terrorist' Groups
Extremist Threats, And Doubts, In Kyrgyzstan, Tajikistan
Hizb Ut-Tahrir's Calls For Islamic State Find Support
Hizb Ut-Tahrir Challenges Britian's Proposed Ban
Lone Islamic Party Pursues Dual Path In Tajikistan

A thematic webpage devoted to issues of religious tolerance in RFE/RL's broadcast region and around the globe.