Yukos Says Deutsche Bank Offers Buyout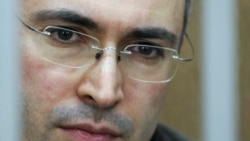 The founder of Yukos, Mikhail Khodorkovsky, is currently serving a jail term in Siberia (file photo) (ITAR-TASS) October 16, 2006 -- The Russian oil company Yukos says it has received a takeover offer from the Russian subsidiary of Deutsche Bank.
Yukos Chairman Viktor Gerashchenko told the Russian newspaper "Kommersant" that the bank suggested holding talks on a deal to acquire "a controlling stake" in Yukos and said it was ready to "assume responsibility" for its debts.
Analysts say the move could represent a bid by state-controlled Gazprom to acquire Yukos, which has been devastated by a tax-fraud probe.
(AP)