Commission spokesman Ferran Tarradellas Espuny today said the moves to split energy producers from distribution networks are not aimed against Gazprom -- the EU's largest external gas supplier which is also seeking to buy supply grids in the bloc.
"The rules of market separation, the 'unbundling' of production and distribution, would not be directed against outside companies who want to enter the [EU] market," Espuny said.
In an interview carried by a number of major European papers today, Medvedeve said the plans are "the most absurd idea in the history of the world economy."
Medvedev said the move -- which is being discussed among EU governments -- would jeopardize investment.
Espuny today argued, however, that a breakup of energy giants is needed to improve market access for newcomers and generate the funds necessary to renew infrastructure.
Russia And Global Energy Security
Russia And Global Energy Security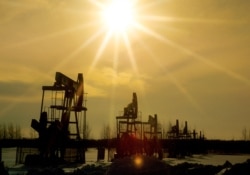 An oil field in Russia's Republic of Bashkortostan (TASS file photo)


ENERGY SECURITY is increasingly moving to the top of the EU's agenda in its dealings the outside world. A recent report identifies the European Union's main energy objectives as not just securing gas and oil deliveries from Russia, but also ensuring that it has reliable alternative sources, including in Central Asia. Nonetheless, EU officials say relations with Russia take center-stage in their thinking....(more)
RELATED ARTICLES
EU Maintains Codependent Energy Relationship With Russia
Turkmenistan: The Achilles' Heel Of European Energy Security
U.S. Official Urges Reforms In Energy-Producing Countries
ARCHIVE
A
complete archive
of RFE/RL's coverage of energy issues in the Caspian Sea region and Russia.