For Other Russia, a loose antigovernment coalition behind the March of Dissent, the mayor's decision to sanction the May 18 rally is already an important victory.
Requests to hold such marches in other Russian cities have been consistently rejected, and attempts to defy the bans have met with a brutal police crackdown.
What prompted Samara officials to lift their initial ban on the rally is still unclear.
Many have linked the decision to the European Union's call on Russia last week to let "critical voices" be heard on the sidelines of the summit.
Accusations Of Police Harassment
But despite the mayor's permission, organizers say law-enforcement agencies have already launched a campaign of intimidation.
Garry Kasparov , a former chess champion turned opposition leader, is one of the driving forces behind Other Russia.
"Two hours after I spoke on Ekho Moskvy radio, police took two computers. They didn't leave a single document." -- Lyudmilla Kuzmina, local head of Voice rights group.
Speaking at a news conference in Moscow today, he denounced police harassment ahead of the rally.
"Law-enforcement organs, if one can call them that, have stepped up repressions against march organizers," he said. "Since May 3, detentions [of activists] have taken place every day, after which they are released. Publications are confiscated."
Denis Bilunov, the executive director of Kasparov's United Civic Front, was detained by police today shortly after arriving in Samara by train. He was charged with carrying counterfeit money.
Two members of the Moscow Helsinki Group rights organization, who traveled to Samara on May 14 to investigate reports of police crackdowns, were themselves detained for several hours.
A group of Russian journalists covering preparations for the march was picked up by police for alleged identity checks.
The U.S.-based Committee to Protect Journalists has also accused Russian authorities of trying to hamper media coverage of the march.
Law-enforcement officials seized computers at the Samara office of the liberal weekly "Novaya Gazeta" last week, forcing the newspaper to cancel a special edition dedicated to the march. Police reportedly said they were searching for pirated software.
Police also raided the Samara branch of Voice, a rights group that has actively denounced arrests of opposition activists.
"Two hours after I'd spoken on Ekho Moskvy [radio] in Samara, police opened a room in my office while I was away and took two computers," Lyudmilla Kuzmina, Voice's local head, told RFE/RL's Russian Service. "They didn't leave a single document. I won't give up until I obtain an admission that this was illegal, as well as excuses."
Some observers say the aggressive police response to these opposition marches reflects concerns in Moscow that the rallies could lead to a repeat of the 2004 protests that forced a power change in Ukraine.
Public Indifference A Bigger Threat
In addition to police harassment, the March of Dissent faces another, perhaps even bigger, hurdle: public indifference.
Organizers say they expect at least 1,000 people to turn up on May 18, but local political analyst Yevgeny Molevich predicts the march will in fact generate little interest among Samara's population.
"There will be a handful of people, they won't gather many," he says. "Who cares if they march and even say something? Obviously, everything will take place without excesses."
In a poll conducted by Russia's Levada Center polling agency on the St. Petersburg March of Dissent earlier this year, 66 percent of respondents said they hadn't heard of the march.
Rifts within the opposition are also undermining the march's impact. Russia's leading liberal opposition parties, Yabloko and the Union of Rightist Forces (SPS), have boycotted the march over the participation of political groups they deemed too radical.
The head of the local branch of Yabloko, Igor Yermolenko, says the party will stay away from the Samara march.
"So far we've been following the decision of the bureau of [Yabloko's] Federal Council on protest actions, which clearly states that the party considers jointly organizing events involving the National Bolshevik Party, and using the party's logo there, to be politically damaging," Yermolenko says. "I think one or two hundred people will come to the march."
With the odds stacked against them, the March of Dissent is unlikely to draw massive participation in Samara.
The EU-Russia summit, however, provides Other Russia with a precious opportunity to draw the European Union's attention to what they say is growing authoritarianism under Putin.
(RFE/RL's Russian Service contributed to this report)
Democracy In Russia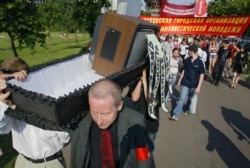 Demonstrators in Moscow carry a coffin with a television in it to protest government control over broadcasting (TASS file photo)


DO RUSSIANS LIKE THEIR GOVERNMENT? During a briefing at RFE/RL's Washington office on November 15, Richard Rose, director of the Center for the Study of Public Policy at the University of Aberdeen, discussed the results of 14 surveys he has conducted since 1992 on Russian public opinion about democracy and the country's development. He discussed the implications of these opinions for relations with the West and for Russia's 2008 presidential election.
LISTEN
Listen to the complete discussion (about 42 minutes):

Real Audio
Windows Media
RELATED ARTICLES
U.S. Election Expected To Chill Relations With Moscow
Are Mayors Next 'Power Vertical' Victim?
Monarchist Nostalgia Remains Powerful
Russian Election Commission Rejects Third-Term Appeal
Romanov Burial May Be Part Of Kremlin Image Campaign
ARCHIVE
All of RFE/RL's English-language coverage of
Russia
.


UPDATED CONSTANTLY: Visit RFE/RL's Russian-language website, featuring news, analysis, features, streaming audio, and more, in Russian, from RFE/RL's Russian Service.