Ravil Gainutdin, the chairman of Russia's Council of Muftis, came up with the idea for the festival as a means of combating the negative portrayal of Muslims in films.
The idea was swiftly endorsed by Tatar President Mintimer Shaimiyev and the first festival was held in 2005.
The seven-day event will feature short and feature-length films, documentary films, and television reportages. In all, 200 films from 46 countries -- including Bosnia-Herzegovina, Algeria, Iran, Iraq, Tunisia, Egypt, India, and Kuwait -- will be screened.
Festival spokeswoman Yelena Krupnova explains what criteria entrants are expected to have: "Artistic merit, quality, is the main condition. Of course, the film must also reflect Muslim culture."
The films should also have a peaceful message and encourage interconfessional dialogue, hence the festival's motto: "From dialogue between cultures to the culture of dialogue."

A Lineup Few Festivals Can Match
Krupnova says the festival is also a chance to watch little-known films.
"The aim of the festival is to introduce films from the Muslim world to Russian viewers and cinematographers, because these films are hardly ever shown in Russia," she says.
"Films from Western countries are shown, from the United States, from Russia, but the public is unfamiliar with Muslim films, which are practically absent from the big screen," Krupnova adds. "Russia combines Christianity and Islam, its two main religions. The festival aims to make this combination harmonious."
And Tatarstan's culture minister, Zile Valiyeva, says the Kazan event boasts an intimate atmosphere and unique lineup that even some of the best-known film festivals in the world cannot match.
"It's a good opportunity to see different kind of films," she says. "There are films that would be unknown to the public without this festival. For instance, Iranian films are new for us, one can't see them in Cannes or other big film festivals."
Golden Minbar has received a warm welcome from both Muslims and non-Muslims. Its budget has increased more than threefold to almost $975,000 this year.
The attendance of prominent Russian and foreign actors, including France's Catherine Deneuve, also testifies to the festival's growing popularity.
(RFE/RL's Tatar-Bashkir Service contributed to this report.)
Who Speaks For Islam?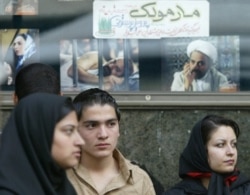 Young Muslims at a movie theater in Tehran (AFP file photo)


CROSS-CULTURAL DIALOGUE: On June 13, RFE/RL hosted a roundtable discussion entitled "Who Speaks For Islam?" The event was hosted by U.S. Undersecretary of State for Public Diplomacy and Public Affairs Karen Hughes and featured scholars of Islam from the United States, Europe, and the Middle East.
LISTEN
Listen to the entire briefing (about 2 hours and 15 minutes):

Real Audio
Windows Media
RELATED ARTICLES
Undersecretary Of State Pushes For More Interfaith Dialogue
Prominent Western Muslim Rejects 'Clash Of Civilizations' Idea
Scholar Warns Europe Of 'Clash Within Civilization'
Antiterrorism Battle Can't Be Won Without Full Muslim Involvement

A thematic webpage devoted to issues of religious tolerance in RFE/RL's broadcast region and around the globe.