A Moscow city police spokesman confirmed that Manana Javelia died on December 2 in a detention center in the Russian capital.
Human rights activists said Javelia, who had been held behind bars for nearly two months, had been denied proper medical care.
Moscow prosecutors said they had opened a probe into the death.
It is the second such death since Moscow began deporting hundreds of Georgians for allegedly breaking immigration rules.
Russia also imposed economic sanctions on Georgia following a spy scandal in September.
(civil.ge, Rustavi 2, AP)
Moscow And Tbilisi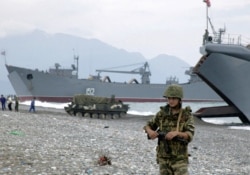 Russian military hardware being withdrawn from a Russian base in Batumi, Georgia, in August 2005 (TASS)

WHAT COMES NEXT? Although Russia is unlikely to push an aggressive military response to the current tensions with Georgia, it has a number of economic, political, and diplomatic options at its disposal. Already on October 1, Russian President Vladimir Putin summoned his inner circle to weigh Moscow's options... (more)
RELATED ARTICLES
Russia Says Georgia Sanctions Will Continue
Russia Suspends Transport, Postal Links To Georgia
EU Commissioner Urges Dialogue With Moscow
Ulterior Motives Seen Behind Escalation Of Spy Row
Georgia Turns Russians Over To OSCE
MORE: Coverage of the situation in Georgian from RFE/RL's Georgian Service and in Russian from RFE/RL's Russian Service.
ARCHIVE
RFE/RL's English-language coverage of
Georgia
and
Russia
.