But the mystery shrouding his death is thicker than ever.

With investigators tight-lipped on their findings, speculation is intense on what has grown into the most dramatic espionage case since the Cold War era.

Divergent Documentaries

On January 22, Britain's BBC television broadcast two documentary films on the former Russian security officer and fierce Kremlin critic.
Andrei Nekrasov, a Russian filmmaker and friend of Litivinenko, is the author of one of these films, titled "My Friend Sasha: A Very Russian Murder."

He tells RFE/RL's Russian Service that the case is generating huge public interest in Britain.

"I know there is very strong pressure from British society on the government and the police to comment on this issue, and television, too, is pressured," Nekrasov said. "For example, I asked the BBC to give me at least six weeks for editing. This is normal. I was given three weeks for everything, for the reason that society needs some kind of answer -- if not the name of the perpetrators, then an honest and open discussion."

So far, Litivinenko's November 23, 2006, death has raised more questions than answers.

The second documentary film shown by the BBC, "How To Poison A Spy," puts forward a different theory. It suggests a first attempt to poison Litvinenko with polonium-210, a rare radioactive substance, took place more than two weeks before he received the fatal dose.

According to the film, the radioactive traces found at a London sushi restaurant where Litvinenko met Italian contact Mario Scaramella on November 1 -- the day the Russian fell violently ill -- were found in a different place from where they were sitting.

The filmmakers say the traces were probably at the seats where Litvinenko had met two former Russian security officers turned businessmen -- Andrei Lugovoi and Dmitry Kovtun -- on October 16.

The two Russians met Litvinenko again on November 1, at London's Millenium Hotel. Radioactive contamination was found at the hotel and eight staff members have tested positive for small doses of polonium.

This theory has already been put forward by a different source -- Russian Prosecutor-General Yury Chaika. Chaika has alleged Lugovoi and Kovtun themselves were poisoned on October 16.

Skeptics Abound

But many observers reject the version put forward by the film.

Oleg Gordiyevsky is the highest-ranking Russian intelligence officer ever to defect. He now lives in London and was a friend of Litivinenko's.

In an interview with RFE/RL's Russian Service, he says that what the BBC describes as a first poisoning attempt was in fact a dress rehearsal for Litvinenko's murder staged by Russia's Federal Security Service (FSB).

"If he had been given some kind of poison [on October 16], he would have died before November 16," Gordiyevsky said. "This was a general rehearsal. Everyone involved in operations -- secret services, military officers -- perform general repetitions of their operations. This day was a rehearsal. They had poison with them, because all warfare substances are meant to be at hand. They arrived, they made up nonsense, but they didn't decide themselves to use the ampule."
Gordiyevsky told Britain's "The Times" newspaper last week that a fourth man present at the November 1, 2006, meeting with Lugovoi and Kovtun was responsible for lacing Litvinenko's tea with polonium.
The man was reportedly introduced to Litvinenko as Vladislav and was traveling on a forged EU passport.
"The Times" reports that British police suspect the man of being the killer and says his image was
recorded by security cameras
at London's Heathrow airport. The newspaper has described the suspect as having Central Asian features.
British investigators from Scotland Yard have declined to comment on these allegations.
Suspicions Deepened
Another London-based ex-KGB agent, Boris Volodarsky, also dismissed the version put forward by the BBC's film as "absurd."
Volodarsky worked as a consultant for the film.
"In my opinion, it's full of mistakes. It's confused. They showed the Kremlin's stance as allegedly being that [exiled tycoon and Litvinenko acquaintance Boris] Berezovsky stands behind this, which is totally absurd," Volodarsky said. "They said the attempt to poison [Litvinenko] took place on October 16. So they indirectly confirmed Russia's version that the attempt to poison him was possibly made on October 16, which is absolutely not true and goes against the investigation's findings and common sense."
Like Gordiyevsky, Volodarsky squarely pins the blame for Litvinenko's poisoning on the FSB.
The accusations echo Litvinenko's deathbed statement blaming Russian President Vladimir Putin -- who formerly headed the FSB -- for his murder.
New footage released on January 22 is likely to deepen suspicions against the FSB.
The BBC and the British broadcaster ITV News aired a previously unseen interview by an Italian investigator in February 2006 in which Litvinenko says he was being persecuted by the FSB.
In the footage, Litvinenko accuses Russian secret services of threatening to kill his 6-year-old son and says a bomb was thrown through his window.
Litvinenko says he wanted the recording to remain secret as he feared for his life.
Aleksandr Litvinenko: A Timeline
Aleksandr Litvinenko: A Timeline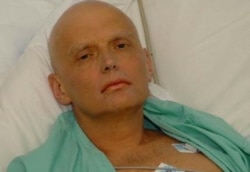 CLOAK AND DAGGER: A timeline of a murder case that unraveled after Andrei Litvinenko, a former Russian security officer and vocal Kremlin critic, dies on November 23, 2006, of poisoning by radioactive isotope polonium-210.
In a deathbed letter, Litvinenko blames Russian President Vladimir Putin for his death -- a claim Putin condemns.
Investigators center on two meetings in London that Litvinenko had described -- one in which he met with two Russians for tea in London, and another in which he met with a third Russian at a sushi bar.
Six months later, British prosecutors announce they have enough evidence to charge a Russian citizen -- one of the men who had met with Litvinenko for tea -- with the murder ...more...
MORE: Coverage in Russian from RFE/RL's Russian Service.
ARCHIVE
RFE/RL's English-language coverage of
Russia
.
SUBSCRIBE
For news and analysis on Russia by e-mail,
subscribe to "RFE/RL Russia Report."