Among those detained following violence at recent rallies in Kyrgyzstan are opposition leaders Omurbek Subanaliev and Omurbek Abdyrakmanov. Also being held is Adilet Aitikeev, the head of the Kanjar opposition youth movement.
In the Karabuura district of the northern Talas region, about 300 of Subanaliev's supporters also demonstrated today. Reports say the protest ended without any violence.
Meanwhile, visiting UN High Commissioner for Human Rights Louise Arbour said the credibility of Kyrgyzstan's judiciary remains a concern.
"I think the entire investigative process [in Kyrgyzstan] has to be brought under judicial review by a trustworthy, professional and independent judiciary," Arbour said.
After Kyrgyzstan, Arbour is scheduled to visit Tajikistan, Kazakhstan, and Turkmenistan. She does not plan to visit Uzbekistan during her tour of former Soviet republics in Central Asia.
Arbour says she was told by the Uzbek government that a date proposed for her to visit Uzbekistan was "not convenient."
(with material from agency reports)
Turmoil In Kyrgyzstan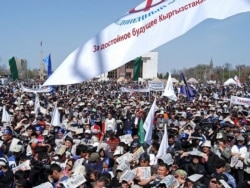 Opposition protests in Bishkek on April 11 (TASS)

TAKING TO THE STREETS. Edil Baisalov, president of the largest grassroots network in Kyrgyzstan, discussed the political turmoil in Kyrgyzstan at an RFE/RL briefing in Washington. He addressed the question of whether the unrest is a healthy democratic process or a bid to derail the country's fragile democratic transition.
LISTEN
Listen to the entire briefing (about 70 minutes):

Real Audio
Windows Media
RELATED ARTICLES
Protests Gain Steam Ahead Of Major Antigovernment Rally
Political Future Uncertain As Premier Steps Down
Revolution Anniversary Highlights Political Failures
Aksy Commemoration A Key Test For Bakiev
ARCHIVE
RFE/RL's coverage of
Kyrgyzstan
. The Kyrgyz-language website of
RFE/RL's Kyrgyz Service
.
SUBSCRIBE
For regular news and analysis on all five Central Asian countries by e-mail,
subscribe to "RFE/RL Central Asia Report."