Niyazov's signature should clear the way for state-run geological company Turkmengeologiya to complete a contract with China National Petroleum Corporation (CNPC) concerning the Gunorta Yoloten natural-gas field in the Mary Region.
State-controlled Turkmen media say the contract is estimated to be worth nearly $152 million.
Turkmenistan is due to build a natural gas pipeline to China by 2009, and has sought to increase its capacity dramatically to supply the eastern, Russian, and European markets.
CNPC is China 's largest producer and supplier of crude oil and natural gas, with major refining and petrochemical operations.
(turkmenistan.ru)
How Much Do The Neighbors Pay?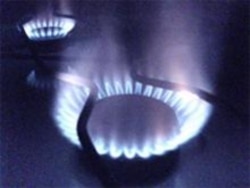 SETTING THE RATES: With Gazprom negotiating new contracts, many states will be paying more for Russian natural gas in 2007.
Belarus, following tense negotiations with Gazprom, will pay $100 per 1,000 cubic meters in -- up from $47 in 2006. Ukraine, which depends on Russia to supply it with about 77 percent of its gas, will pay $130 per 1,000 cubic meters of a Turkmen-Russian gas mix. Moldova, which depends on Russia for 100 percent of its gas, will pay $170 per 1,000 cubic meters, with the price rising to European-level market price by 2011. Georgia has agreed to pay Gazprom $235 per 1,000 cubic meters of gas.
ARCHIVE
A
complete archive
of RFE/RL's coverage of energy issues in the Caspian Sea region and Russia.